Newsletter
Please contact us regarding any of the topics below.
Accommodations
Effective January 1, 2019 Accommodations has moved to Global Services. The goal is to provide more support for our customers with high emphasis on our User Community.
A Year in Photos
Fermilab Families
Join us every Wednesday for Playgroup! We play, we eat, make a craft, and make friends!
RSVP for Family Movie Day  – Saturday, February 16th – 11 AM at Kuhn Barn – The Lego Movie
Gymnastics Open Gym
Prairie Gymnastics is offering Open Gym for Fermilab families this winter. Prairie Gym is located at 1241 N Raddant Rd in Batavia.
Open Gym costs $5 per child and we do need at least 10 kids for them to hold our reservation, so please RSVP as soon as you can so we can confirm with the gym. Feel free to invite friends and neighbors!
Open Gym 2019 Dates:
Sunday, January 27th, 3:15 PM
Sunday, February 24th, 3:15 PM
Sunday, March 24th, 3:15 PM
Sunday, April 14th, 3:15 PM
Sign up for Winter Open Gym!
Fermilab Events
Family Events at Fermilab
We have many exciting events rights here at Fermilab – Family Open House, Chinese New Year Celebration, and Science Adventure Classes. Click on the flyer below or this link to learn more.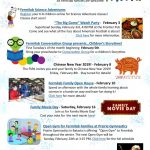 Chicago area events
For a listing of monthly events near Fermilab, please see our dedicated Events page.