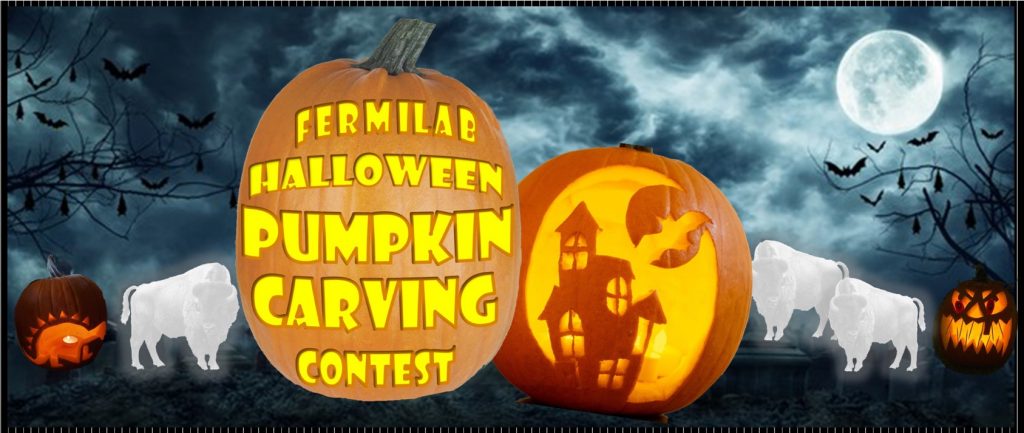 The Fermilab Pumpkin Carving Contest is open to all Fermilab Employees, Users, Affiliates and their immediate families.
Rules:
All entries should be received by Sunday evening, October 31st
Entries be against a solid background and should include at least 2 photos:
– One with lights on, so we can see your whole pumpkin
– One with lights off and the candle lit
Extra credit if you also send a picture of you with your pumpkin!
Photos will be shared on this website and in the Fermilab News.
and then email your photos to Jessica Jensen
---
Here are last years entries:
Offsite "Spooky Season" Activities:
"Halloween Happenings" – Batavia
"No Tricks, just Treats" – West Chicago (10/30) 
For everyone (Kid-Friendly):
BatFest (Batavia)
Pumpkin Daze at Abbey Farms in Aurora
Sugar Grove Pumpkin Farms
Sonny Acres Farm in West Chicago
Halloween Haydays – Geneva
Fun for Adults (scary/creepy):
Halloween at West Main Park – Batavia
Little Park of Horrors (Elgin)
Local Haunted House Events 
*A "haunted house" at Halloween in the US refers to a walk through a sort of interactive theatre. Most contain spooky scenes that may disturb some people
Please Note: There will be no Trick-or-Treating in the Village this year.
Do you have a "Spooky Season" Event you would like to share with the Fermilab Community?