The Fermilab Bike Share is easy to join and free to use. It is available  to all Employees and Users/Affiliates holding a current Fermilab Badge.
Fermilab's Bike Share bicycles are useful for going from building to building on Fermilab property. They are also a nice way to enjoy some of the surrounding beauty of the Fermilab site and get some light exercise as well.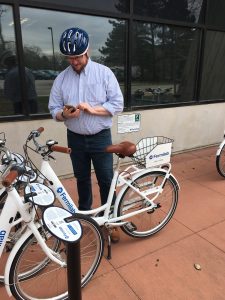 ---
How to Join…
Joining the Bike Share Program is a 2 step process
Register via the Movatic App

Download the Movatic App from the App store or Google Play on your smartphone and

register for the Fermilab network.

Type in "Fermilab 2023" in as the share system you want to join

Read and sign the Bike Share Rider agreement and waiver in the app.
Once you have completed these steps, the request will be forwarded for confirmation of an active badge and administrative approval. After approval, the requester will be able to check out Bike Share bicycles. Administrative approval will only be given during regular business hours (8:00 AM-4:30 PM)
---
Important Information…
Bicycles may only be checked out and used by badge holders

Riders must be 18 years or older

Bicycles can be checked out for a time-period of two hours per use

Bicycles can be checked out from Sunrise to Sunset

Bicycle helmets are required for all members using bike share bicycles.

Bicycles must be secured using the included lock when parking bicycle anywhere other than the Bike Share rack
 Bicycles must be returned to a Bike Share rack and the rental must be completed in your app.
In the event that you are unable to return the bicycle to a Bike Share rack because all racks are full, please send an email us and let us know you have secured the bike by using the u-lock system on the bike. Please return the bicycle to the Bike Share rack at your next opportunity and mark your rental complete.
---
CORONAVIRUS (COVID-19)
Due to the nature of the Bike Share program, the Bikes are not sanitized between participant use and we cannot guarantee that they are clean. We suggest that you take adequate protective measures to ensure your safety. When using the Bike Share bicycles, the use of anti-bacterial wipes and hand sanitizer can provide some personal protection for you. You should clean areas of rider contact, (i.e., handle grips, seat, gear changers, and basket areas) This is a good extra step prior to beginning your ride.
Consider wearing gloves while riding your bike. Always wash your hands after riding your bike. Avoid sharing helmets.
Bike Share News 
---
8/3/23- The Movatic App is not working for adding new memberships. The issue is being worked on by Movatic help desk. If you are trying to join, please first complete you recreation waiver. Next, download and sign up for the Movatic App. If you have trouble joining the "Fermilab 2023" system, email bikeshare@fnal.gov with your phone number and we will add you to the Fermilab 2023 membership manually.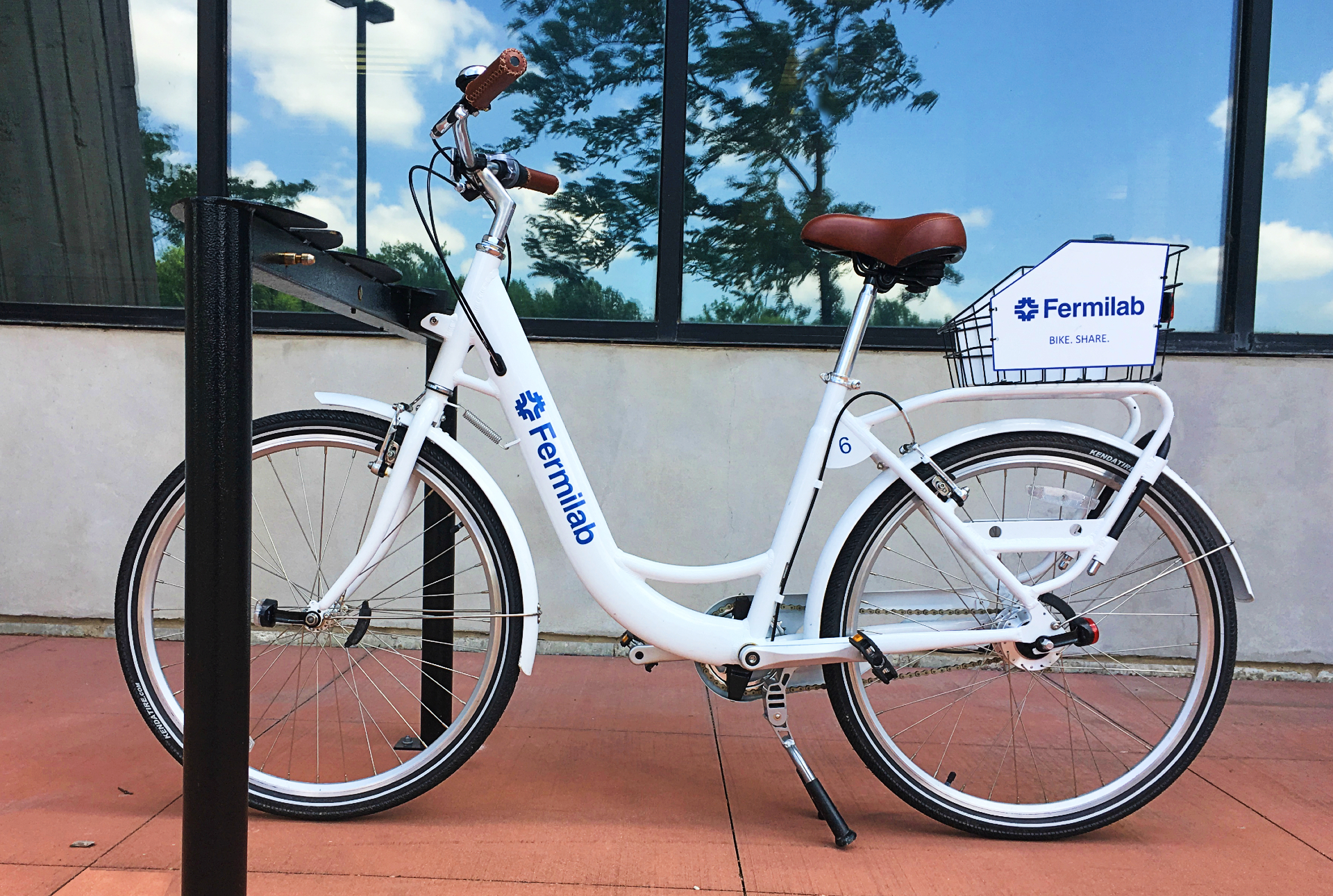 Bicycle stations
A. Wilson Hall (West side)
B. SW Cross Gallery
C. Site 38 Warehouse
D. Site 38 FES/OPS
E. Feynmann Computing Center
F. IARC
G. SiDet
K. Aspen East
H. Users Center
I. Fermilab Gym
J. Dorm 5
Bicycle Station Maps
(click to enlarge)